Commemorative plate on the street named after Pylyp Orlyk in the town Vileyka (Minsk region)
On October 13, 2007 at Vileyka district (Minsk region) — historical motherland of Pylyp Orlyk, the outstanding statesman of Ukraine, hetman and author of its first Constitution, the celebrations took place dedicated to 335 years anniversary of his birth.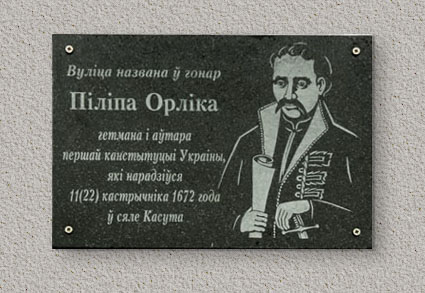 Окрім Посольства України, організаторами заходу виступили: Мінський облвиконком, Уповноважений у справах релігій і національностей при Раді Міністрів РБ, Вілейська районна Рада депутатів і райвиконком, Громадська комісія з увічнення пам'яті Пилипа Орлика Білоруського громадського об'єднання українців «Ватра», Республіканський Центр національних культур, Мінське громадське об'єднання українців «Заповіт».
Свято розпочалося поминальною службою в церкві святих Петра і Павла в селі Косута (батьківщина Орлика), після якої учасники урочистостей на чолі з Надзвичайним і Повноважним Послом України в Білорусі Ігорем Ліховим поклали квіти до пам'ятного знака, відкритого минулої осені на місці, де має постати пам'ятник видатному синові України.
З вітальним словом до присутніх звернувся голова Вілейської районної Ради депутатів Є. Ігнатович. Посол України І. Ліховий у своєму виступі наголосив на неперехідній цінності звершеного Пилипом Орликом. «Пакти і Конституція прав і вольностей Війська Запорозького» («Конституція Пилипа Орлика») й сьогодні вражають своєю актуальністю та високим правовим рівнем.
Учасники українського фольклорного ансамблю пісні та обрядів «Ватра» виконали знамениту пісню-гімн «Боже Великий, Єдиний, нам Україну храни», а почесні гості свята висадили біля пам'ятного знака калиновий кущ.
Потім у райцентрі м. Вілейка відбулося урочисте відкриття пам'ятної дошки з промовистим текстом: «Вулицю названо на честь Пилипа Орлика — гетьмана й автора першої конституції України, який народився 11 (22) жовтня 1672 року в селі Косута», яку освятив священик місцевого храму.
Офіційний веб-сайт МЗС України.
Related articles: