Coin dedicated to Pylyp Orlyk
The coin dedicated to the representative of the Ukrainian noble family, the fellow of Ivan Mazepa, who became the hetman in exile — Pylyp Orlyk (1672–1742), author of the first Ukrainian Constitution "Pacts and Constitutions of Rights and Freedoms of the Zaporizhian Host…" (1710), which is the historical monument of the political and legal ideas in Ukraine at the beginning of XVIII century and which governed the major issues of the state building in Ukraine.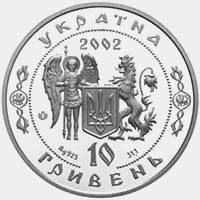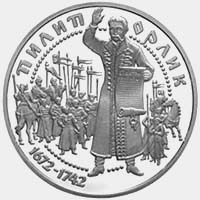 Монета продовжує серію Національного банку України «Герої козацької доби». Матеріал виготовлення: срібло.
На аверсі монети зображено загальну для цієї серії композицію, що втілює ідею соборності України: малий Державний Герб України підтримують гербові фігури архістратига Михаїла і коронованого лева — символи міст Києва і Львова, стилізовані написи: УКРАЇНА, 2002, 10, ГРИВЕНЬ, логотип Монетного двору, а також позначення металу, його проби — Ag 925 та вага в чистоті — 31,1.
На реверсі монети в намистовому колі в центрі зображено Пилипа Орлика, який стоїть в оточенні козаків-соратників, піднявши праву руку та тримаючи в лівій руці розгорнутий свиток «Пакти та конституції…». Між зовнішнім кантом монети і намистовим колом угорі розміщено стилізований напис «ПИЛИП ОРЛИК», унизу ліворуч — роки життя 1672−1742.
Автори: ескізів — Олександр Івахненко; моделей — Анджей Новаковськи, Володимир Демяненко.
Related articles: