Monuments to Ivan Mazepa
1. Monuments to the Ukrainian hetman Ivan Mazepa


Beginning of 90-ies of XX century, Kerhonkson (USA). Sculptor S. Litvinenko. The monument is erected under funding of the Ukrainian National Association in the United States of America.
2. ПMonument to Ivan Mazepa



994 village Mazepyntsi of Bila Tserkva district in Kyiv region (Ukraine). Sculptor Y. Gorban. Пам'ятник встановлено на кошти відомого українського мецената Мар'яна Коця.
3. Пам'ятник Івану Мазепі 1995 р. Львівщина (Україна). Скульптор Н. Дерегус-Лоренс
4. Пам'ятник Івану Мазепі 1997 р. Львівщина (Україна), Ю.-З. Савко.
5. Пам'ятник Івану Мазепі





2004 р. м. Галац (Румунія). Скульптор Г. Тенасе. Пам'ятник виконаний на замовлення Міністерства культури і мистецтв Румунії.
6. Пам'ятник Івану Мазепі у м. Чернігів (Україна), 2009 р.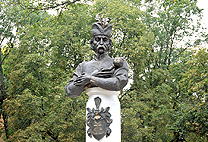 Наприкінці серпня 2009 року пам'ятник гетьману І. Мазепі було встановлено на території Національного архітектурно-історичного заповідника «Чернігів стародавній» (автори: скульптор Г. Єршов, архітектор В. Павленко). Чин освячення пам'ятника здійснив єпископ Чернігівський і Ніжинський Іларіон Української Православної Церкви Київського патріархату.
7. Пам'ятник Івану Мазепі. 1990 – ті рр. м. Перхтольдсдорф (Австрія)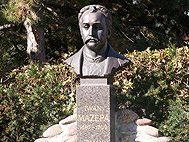 Встановлений з ініціативи та на кошти українця Маркіяна Припхана.
8. Скульптурна композиція «Вічний Київ». 2009 р. м. Київ.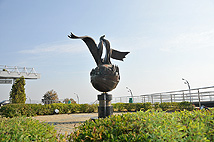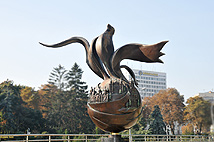 Пам'ятник «Вічний  Київ» (Навколо кулі, з якої до неба здіймається голуб, представлені барельєфи соборів та церков, реставрованих або побудованих коштом гетьмана І. Мазепи. Відтак скульптурна композиція може вважатися пам'ятником меценатської діяльності гетьмана). 2009 р. м. Київ. Автор — німецько-британсько-ізраїльський скульптор Франк Майслер.
Related articles: