Ivan Mazepa in questions and answers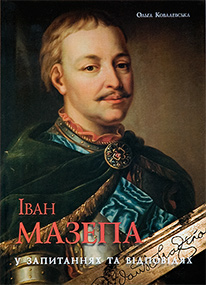 The reader will find in this book short but exhaustive answers to principal questions concerning the figure of Ivan Mazepa, the Ukrainian hetman in 1687-1709, he will learn about interesting historic facts, historical and cultural monuments connected to him, about literature, painting and music in which his image is reproduced.
In order to understand the material better, the chronology of I. Mazepa life and activity is proposed, the lists of basic and additional reference literature are added which will permit to familiarize in more detail with this outstanding person in the Ukrainian history.
The edition is designed for school children, students, teachers and everyone who is interested in history of Ukraine.

«Іван Мазепа у запитаннях та відповідях» у форматі pdf-outline. Документ розміщено із люб'язної згоди автора та видавництва.

Частина 1
Частина 2
Частина 3
Частина 4
Частина 5
Частина 6
Частина 7
Частина 8
Частина 9
Частина 10
Related articles: